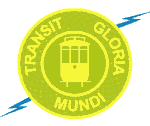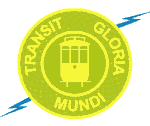 Transit Gloria Mundi
Trolley and Light Rail Videos
Since 1986, Transit Gloria Mundi has been producing and distributing programs about urban rail transportation. If you have an interest in trolleys or streetcars, interurbans, cable cars, subways, elevateds, or light rail, we have DVDs that are sure to please you.
Our programs range from meticulously researched histories to nostalgia-rich remembrances, in-depth coverage of single systems to broad overviews, treats for the confirmed trolley enthusiast to presentations for use by public transit advocates. Three of our shows have won the prestigeous Telly award; two have aired on Arts & Entertainment and the History Channel (you can still catch them in reruns).
We are filmmakers first and transit enthusiasts second. That means every Transit Gloria Mundi video has a story to tell, and it is told with all the skills, experience, and techniques available to the trained filmmaker.
<!__ navigation buttons -->

[Up] [Order & Contact] [Sitemap]

[What's new] [Text only] [Digital Magic] [Browse by category] [Links]

Click images below for more information on each DVD, or use the list below the images.
DVDs produced by Transit Gloria Mundi
DVDs by other producers, formerly distributed by Transit Gloria Mundi, now distributed by Train Video Depot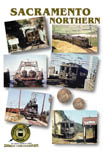 <!__ navigation buttons -->

[Up] [Order & Contact] [Sitemap]