Steel City Traction: The South Side Lines
<!__ navigation buttons -->

[Up] [Main] [Order & Contact] [Sitemap]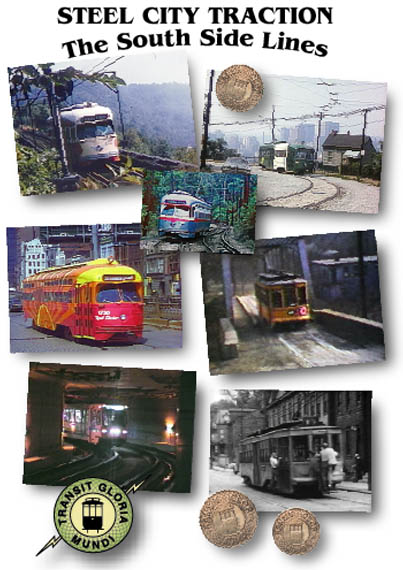 Steel City Traction: The South Side Lines tells the story of the lines that operated southward from downtown Pittsburgh, including routes 35, 36, 37, 38, 39, 40, 42, 44, 47, 48, 49, 50, 51, and 53, the interurbans to Washington and Charleroi, five of the inclines, the experimental Skybus line, and the current light rail system.

Over half the DVD is from vintage film footage dating back as far as World War II, showing standard cars as well as the famous PCCs, mostly in color. Modern professional video footage documents the operations of the light rail line. The organization of the program is geographical as well as historical, with many maps showing the development and eventual decline and rebirth of rail transit in Pittsburgh.

107 minutes, full soundtrack of narration, music, and natural sound.

Other Pennsylvania trolley titles:

Web links
The Pennsylvania Trolley Museum (near Pittsburgh) operates several Pittsburgh and other Pennsylvania cars over track that was once part of Pittsburgh Railways's Washington interurban line.

If the Pittsburgh inclines are of particular interest, perhaps you would like to see inclines from all over the world on the web's premiere funicular site.

Here is an excellent history of the Pittsburgh and Castle Shannon, a steam operated narrow gauge predecessor of Pittsburg's current Overbrook light rail line.

If it is the light rail portion of this program that interests you, the web site of the Light Rail Transit Association is a good starting point for information and more links.

<!__ navigation buttons -->

[Up] [Main] [Order & Contact] [Sitemap]