Steel City Traction 2
West End Story
Here are all the shots from the front cover of the cassette case, arranged in the order they appear on the tape.
<!__ navigation buttons -->

[Up] [Main] [ORDER] [Sitemap]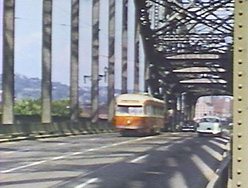 All West End routes used the Point Bridge. This car is outbound. Closing of the bridge in 1959 forced conversion of all 6 remaining West End routes to bus. The bridge itself was not demolished until 1970.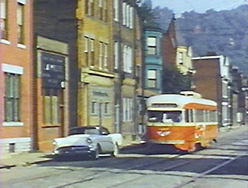 Cars of routes 27 - Carnegie, 28 - Heidelberg, and 30 - Crafton-Ingram ran on Wabash in the West End. This car is outbound.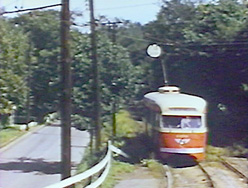 An outbound car of route 27, 28, or 30 approaches the end of private right-of-way in Crafton. The white circle above the car is a Car Stop sign hanging from the span wire. Crafton Blvd. is on the left.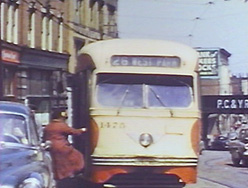 An outbound route 26 - West Park car stops for passengers on Chartiers Ave. in McKees Rocks. In the background is the Pittsburgh, Canton, and Youghiogheny RR. overpass. Just this side of the overpass, route 25 - Island Ave. cars run to the left, parallel to the railroad.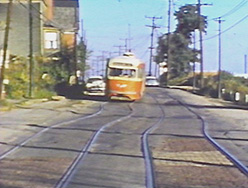 This is the famous "wiggle track" in Island Ave. The ground under the roadway and tracks had been gradually sliding down toward the Ohio River (to the right of frame) for several years. This is an inbound route 25 car.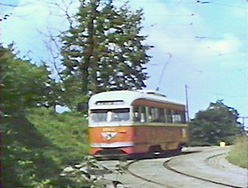 An outbound route 34/31 - Elliott-Sheraden car rounds the curve on Ladoga Ave. on the last leg of its trip, terminating at the Ingram carhouse.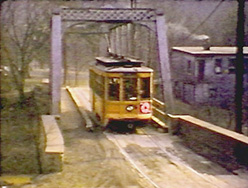 The Thornburg shuttle.

<!__ navigation buttons -->

[Up] [Main] [ORDER] [Sitemap]